Patient recruitment and retention projects the success of a clinical trial. We build patient trust and understanding by conveying recruitment messages in various ways and in regular frequencies.
Targeting the right patient for faster enrollment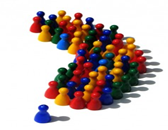 By collaborating with our clients we are identifying various developments and addressing them in a timely manner and thus reaching our projected enrolment targets.
We work together with our clients to identify study objectives, strategies of approaching the patient population, and approach patient support groups. We understand the ever increasing costs to run a clinical trial and hence we support our clients by accurately predicting the rate of enrolment and thus by reducing the timelines and budget.
We provide accurate to reports to show real time visibility into each sites performance. We sit together with the site to address the issues with regards to enrolment by following our live link enrolment plan and various strategies.